Summer has arrived and many of you will soon be packing your bags and jetting off to hotter climes. Whether you're taking a short city break in a hostel or looking for an all inclusive holiday, there are plenty of deals out there to take you to sunny spots.
That's why we've put together some recommendations on the best foods to eat if you go to Greece for a summer sojourn. Add these 9 dishes to your must-do list.
1. Spanakopita
You'll find this delight almost everywhere you turn. Spanakopita is spinach, cheese and herb pie surrounded by crisp and flaky filo pastry. It's a Greek savoury treat without peer.

Phil Campbell
2. Greek Salad
Forgive us for being a little obvious with this world-famous dish. But the Greeks do it best! Crisp lettuce, plump tomatoes and fresh olives with crumbly feta, drizzled in the region's own olive oil. Top tip – even if you're in a tourist trap that serves international food as well, better-known national dishes like Greek salad are a safe bet.
3. Fresh fish
Greeks have been sampling the delights of the Mediterranean and Aegean Seas for millennia, and their fresh fish reflects their wisdom. National favourites include whole grilled fish or calamari drizzled with a lemon and oil vinaigrette dressing called ladolemono.
4. Olives
Greece has been producing and eating olives for thousands of years. Olives are a popular accompaniment to many local meals. You can enjoy them served from a sea salt brine or plucked from the tree without curing.
5. Olive oil
Olive oil is pretty much a mainstay of national cuisine – it is drizzled on salads and dips, and used liberally in cooking. Many restaurants make their own oil! Don't forget: many nutritionists believe that olive oil is a main reason for why Mediterranean people are so healthy compared to Brits!
6. Dolmathakia
You'll find many a different recipe for this classic Greek favourite. The foundation is grape leaves stuffed with rice. The variations bring different ingredients to the party, including thyme, dill, minced meat, pine nuts or oregano.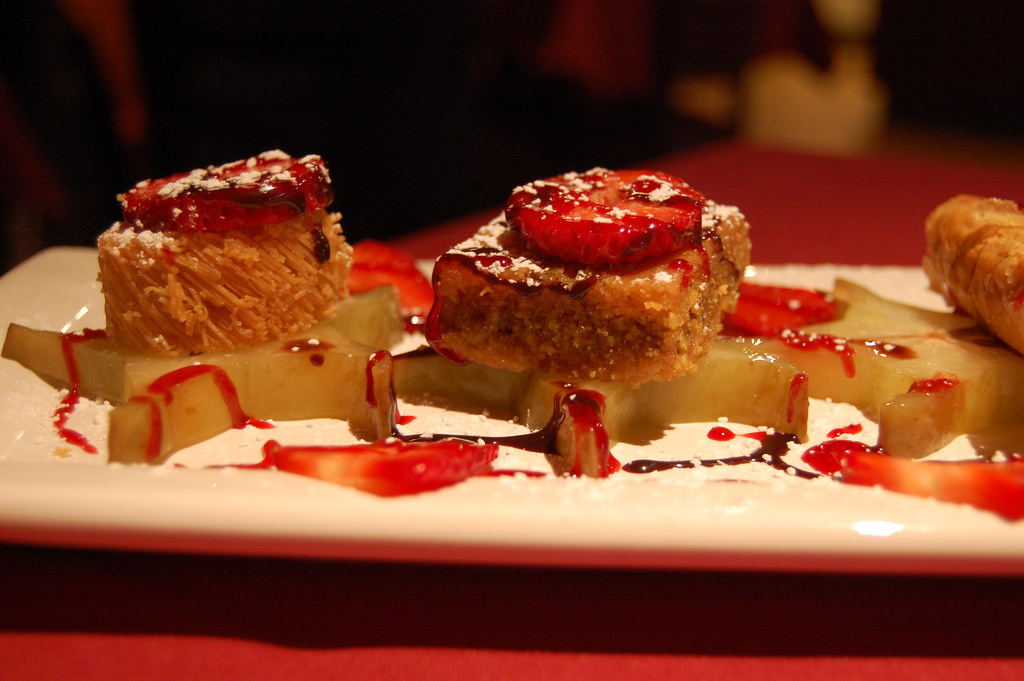 stu_spivack
7. Baklava
You didn't think we'd talk food without some sweets, did you? Baklava is made of delicious layers of flaky filo pastry, honey and ground nuts. Delightful!
8. Honey and yoghurt
Sometimes, the simple things are the best: don't you agree? Spooning some thyme honey – rich in antioxidants, for the record! – over a generous serving of creamy Greek yoghurt is a sensuous taste sensation with practically zero fuss. Tasty, smooth, sweet, healthy – what more could a girl want?
9. Loukoumades
Take some balls of dough and lightly fry to a fluffy consistency like a doughnut. Dip in thyme honey or syrup. Sprinkle with cinnamon. Eat. Eat another. Cram five into your mouth when nobody is looking!
Hope you like our suggestions. Share these ideas on social media if you know anyone who is planning on taking a holiday in Greece soon – they'll thank you for it!